Jana Neff, Chairman
Ms. Neff has been involved with Sintavia since its inception in 2012. In addition to serving as Sintavia's Chairman, she is also the CEO of Apogee Investment Partners, LLC, a commercial real estate investment company focused on South Florida industrial properties. Ms. Neff's previous aviation experience includes serving on the board of CTS Engines, LLC, a jet engine MRO based in Ft. Lauderdale, from 2010 to 2016. Prior to joining Apogee in January 2011, Ms. Neff worked as a Senior Manager of Corporate Merchandising at Coach, Inc. after holding similar roles at Abercrombie & Fitch. Ms. Neff is currently the Chairman of the Board of Trustees of the Fisher Island Day School and is a graduate of both Dartmouth College and Phillips Academy Andover. She and her husband have four children.
Brian Neff, CEO
Mr. Neff founded Sintavia, an advanced manufacturer focused primarily on the Aerospace & Defense industry, in 2012 after working with metal additive manufacturing at CTS Engines, a jet engine MRO he acquired in 2010. Prior to CTS, Brian was the President of Southern Air from 2007 to 2009, and its CFO from 2003 to 2007. Brian holds a BA from Dartmouth College and an MBA from Columbia Business School.
Alex Bencomo, Vice President of Operations
Mr. Bencomo is an operations specialist with over 12 years of aerospace manufacturing experience. Prior to joining Sintavia, Alex worked for United Technologies Corporation as a process expert in aerospace quality systems, Nadcap implementation, and lean manufacturing.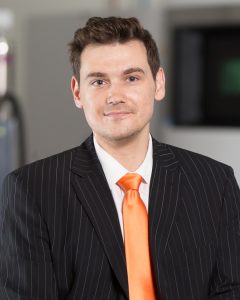 Pavlo Earle, Director of Engineering
Mr. Earle is an additive engineer with over 10 years of experience working in advanced manufacturing. Previously employed by Rolls-Royce, Pavlo has expert-level knowledge of material testing, engineering design and creating adaptive and cost-effective CAM/CAD additive manufacturing solutions.
Production Engineering Team
The Sintavia production engineering team prepares part data prior to each build and is involved with all phases of the AM build process, providing immediate feedback on production to the customer. Sintavia's personnel have many years of experience in the engineering departments of Rolls-Royce, Pratt & Whitney, General Electric, Northrop Grumman, and HEICO Aerospace.
Powder and Metrology Laboratory Team
Powder sampling is a critical part of the AM process to ensure quality builds. After each sieve, a sample is sent to the in-house powder laboratory for viability of chemical, elemental, and gas parameters. Prior to each time powder is loaded into an AM machine, it is tested for conformance by Sintavia. Similarly, metallographic analysis is critical post-production. Sintavia's in-house metallurgical laboratory is able to analyze specimens to understand the microstructure of each build. Sintavia's metallurgical lab is ISO 17025/ANAB accredited.